Passive and active ETF solutions
We have successfully managed index funds, also called passive funds, since 1988, with dedicated portfolio management teams across global markets, leveraging our technology and expertise.
View full list of ETFs.
ETF fee reduction - 07 January 2020
Following strong passive AUM growth and client demand, we are pleased to announce a number of management fee reductions across our ETF range, effective from 07/01/2020. These changes benefit key building blocks (Emerging Markets, Pacific ex Japan and Europe) and make these ETFs among the most competitively priced physically replicated European ETFs tracking their respective strategies.
The TER of the funds listed below will be reduced as follows:
Fund name: HSBC MSCI EMERGING MARKETS UCITS ETF
Bloomberg ticker: HMEM
Previous TER: 40bps
New TER: 15bps
---
Fund name: HSBC MSCI PACIFIC EX JAPAN UCITS ETF
Bloomberg ticker: HMXD
Previous TER: 40bps
New TER: 15bps
---
Fund name: HSBC MSCI EUROPE UCITS ETF
Bloomberg ticker: HMEU
Previous TER: 20bps
New TER: 10bps
We take a pragmatic approach to managing ETFs for our clients, with two equally important objectives: tracking the index closely and minimising costs. Our ETFs offer investors an exposure to a wide range of global, regional and single-country indices.
Key benefits of our ETF range
Our investment process aims to efficiently track an index as close as possible. We have a proven track record in providing competitively priced ETF solutions. Our range is supported by the following key benefits: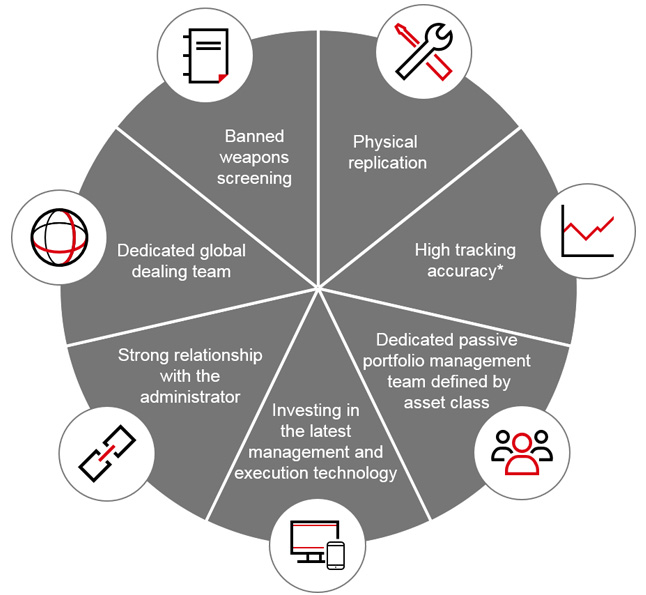 Physical replication
Our ETFs only invest in the physical stocks which make up the index, also known as 'physical replication', and we do not use complicated financial instruments to track the indices.
High index tracking accuracy*
Our experience in managing index funds, means we are able to utilise different implementation techniques and add value where appropriate to ensure our solutions efficiently track the index – while minimising the costs for our clients.
*Please refer to the factsheets for individual fund performance
Enhanced risk management, control and monitoring
As a bank owned asset manager, we are subject to more robust risk parameters and stricter governance rules. Risk management is central to our investment process before, during and after investment decisions are made.
Dedicated global dealing team
At HSBC we have traders located in key regional execution hubs. This means we are able to reduce the high costs normally associated with trading stocks which affect the performance of funds.
Banned weapons stock screening
At HSBC, doing the right things is important to us, we have therefore taken a firm wide ban of investing in companies which produce 'banned weapons' as defined by the UN (i.e. chemical weapons and anti-personnel mines).
Large investment in the latest management and execution technology
We have been investing in in-house leading technology to ensure our solutions can benefit from the latest IT developments aimed at delivering cost savings and better performance for our funds and ultimately, for investors.
Index-based Investing - The value of investments and any income from them can go down as well as up and investors may not get back the amount originally invested. Where overseas investments are held the rate of currency exchange may also cause the value of such investments to fluctuate.