Mid-Year Investment Outlook 2019
Our Global Chief Strategist and CIOs give their views on the macro environment and markets, and their outlook for the remainder of the year
04 June 2019
Message from our Global CIO
Chris Cheetham
Global Chief Investment Officer, HSBC Global Asset Management
Welcome to our 2019 mid-year outlook
I hope you enjoy reading our mid-year Investment Outlook. In the pages that follow we set out to share our current thinking and the investment conclusions that follow. Perhaps surprisingly, given that there is much uncertainty, we have some clear views.
Sometimes the key question for investment managers is less 'where do we go next?', but rather 'how did we get here?' The reason is that markets move when something changes relative to what's currently discounted. It follows that our first task is often to understand what is discounted in today's prices.
That's not always easy, but it is often very helpful. The situation at the end of last year is a case in point. Investment returns were very disappointing in 2018. This was the true across the board, but especially in 'risk assets' like equities. The reason is that by the year end markets were discounting the continuation of a very sluggish world economy, if not the risk of outright recession, while fearing that interest rates would continue to rise.
In contrast, asset class performance has been very robust year-to-date, with both equities and fixed income asset classes delivering strong, positive returns, precisely because these fears did not materialise. Indeed, the reverse has been true. The macroeconomic backdrop has been better than expected, relative to consensus forecasts, with the evidence now suggesting that what happened last year, especially in Q4, was a 'cyclical slowdown', from which activity is now slowly recovering.
More importantly though, investor confidence was boosted by the US Federal Reserve's 'pivot' at the start of the year to a more accommodative stance. Markets are now expecting rate cuts, not rate hikes. Moreover, the Fed was not the only central bank to 'pivot' and, as result, we're now back to a world of policy accommodation.
So far so good, as far as the year is concerned, but the question is what's discounted now? Despite better economic data, investors remain anxious about the global growth environment. We continue to believe this cyclical pessimism is overdone. However, on the other hand, inflation has been 'priced out' of asset valuations while yield curves imply further rate cuts and a lower-for-even-longer rate environment.
As far as the investment outlook is concerned there is both good news and bad news implied in current market pricing. On the one hand, modest economic growth, low inflation and interest rates and accommodative monetary policy, combined with still attractive valuations, is positive for global equities, especially if well diversified. On the other hand, falling long-term interests rates have led to a negative 'term premium' which is probably bad news for investors in government bonds and high quality credits.
At this point then, our investment conclusions are relatively straightforward. Global equities look reasonably attractive (though don't expect stellar returns), but bonds do not, though in some segments 'credit risk' is still adequately rewarded.
In what follows my colleagues will build on these themes while adding both colour and nuance.
Chris Cheetham
Global CIO
Macro and multi-asset outlook
---
Q&A with Joe Little
Global Co-CIO Multi-Asset, Global Chief Strategist
Mid Year Outlook - Joe Little
Can you summarise asset market performance year-to-date?
Asset class performance has been robust year-to-date with both equities and bonds delivering strong, positive returns. Global equities are up by more than 10 per cent in US dollar terms1 while, on a US dollar-hedged basis, global government bonds and investment grade corporate bonds have returned around 2.5 per cent and 5 per cent, respectively1.
Figure 1: Asset class performance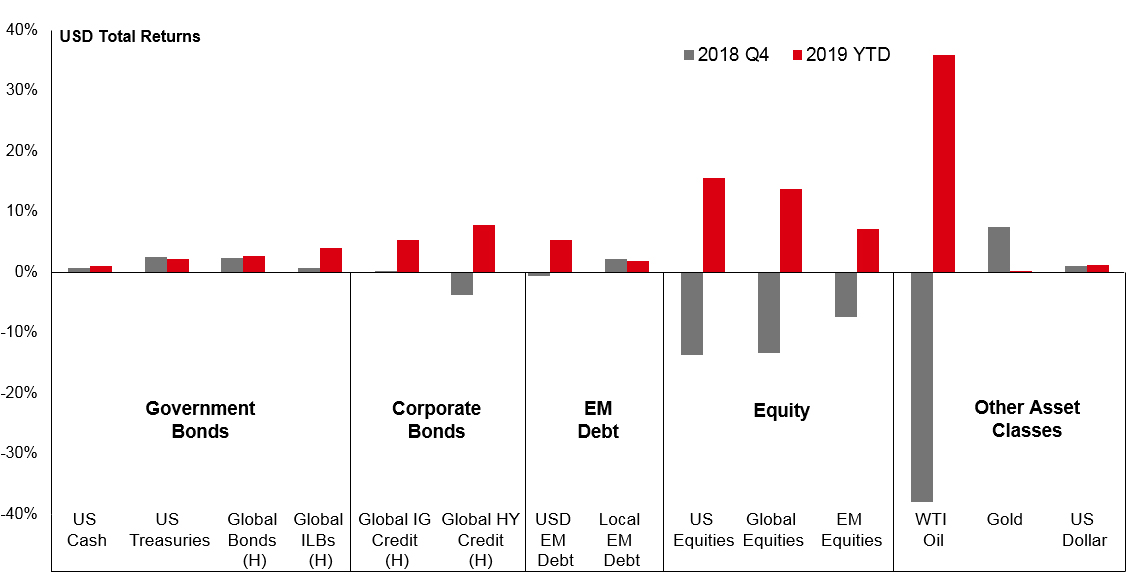 Source: Bloomberg, HSBC Global Asset Management. Data as of May 2019. All asset class returns shown as USD total returns (unhedged) unless stated. H - Refers to currency-hedged USD total returns.
Past performance is not a guarantee of future performance.
However, we need to put these returns into context. In Q4 last year risk asset classes underperformed on the back of a re-emergence of recession worries and fears of a policy mistake from the US Federal Reserve (Fed). The strong performance thus far in 2019 therefore largely reflects a rebound from the disappointing end to 2018. What's more, the strongest cumulative market performance from end-Q3 2018 to 2019 year-to-date has been in fixed income, not equities. While credits have produced positive returns, global equities are flat since the beginning of Q4 2018. This means that, counter-intuitively, despite strong returns this year, equities are actually the laggard.
1 Source: Bloomberg, HSBC Global Asset Management, MSCI All Country World Index (equities), FTSE World Government Bond Index, and Bloomberg Barclays Global Aggregate Corporate Index as at 30 April 2019.
Global equities outlook
---
Q&A with Bill Maldonado
Global CIO Equities, CIO Asia Pacific
Can you give us an overview of global equity markets in the first half of 2019?
There have been two key developments of note this year. Firstly, the US Federal Reserve's position on interest rates has become clear after an extended 'will they, won't they' waiting game that had investors on tenterhooks last year. The Fed pivoted to a more dovish stance at the beginning of 2019, putting further rates hikes on hold and adopting a data dependent approach for future policy decisions. Secondly, with respect to global economic growth - we've seen a degree of stabilisation, primarily in the US and in China, and this has helped anchor the world economy. To put this in context we need to flash back to 2017 when the key economies were growing strongly, in a synchronised manner, amidst low inflation. Risk assets thrived in that environment. When investors saw signs of economic growth flagging in 2018, amidst an array of other concerns – primarily the Fed's rate hiking path and US-China trade tensions – they punished the markets, particularly in the second half of the year.
While there was no material shift in the economic or business cycle in 2019, there was a change in sentiment as many of last year's pressing concerns - including, for a brief period, the US-China trade standoff - began to fade into the background. This combined with cheap valuations after last year's correction, unleashed the latent value in global equities, and stock markets rallied sharply in the beginning of the year before giving up some gains to the latest round of trade frictions in May.
One area where the narrative has been negative, and unfairly so in our opinion, is earnings growth. There has been a lot of discussion around earnings 'misses' in the fourth quarter of 2018 and first three months of 2019, but here the focus is on how accurate analysts' estimates are. Instead, we should be thinking about whether companies are delivering better profitability and return on equity (ROE). Earnings growth has undoubtedly slowed when compared with 2018, trending in single digits for most major markets, but this has largely been factored into the current stock prices. This means any upside we see from here could provide a boost.
Figure 5: Profitability forecast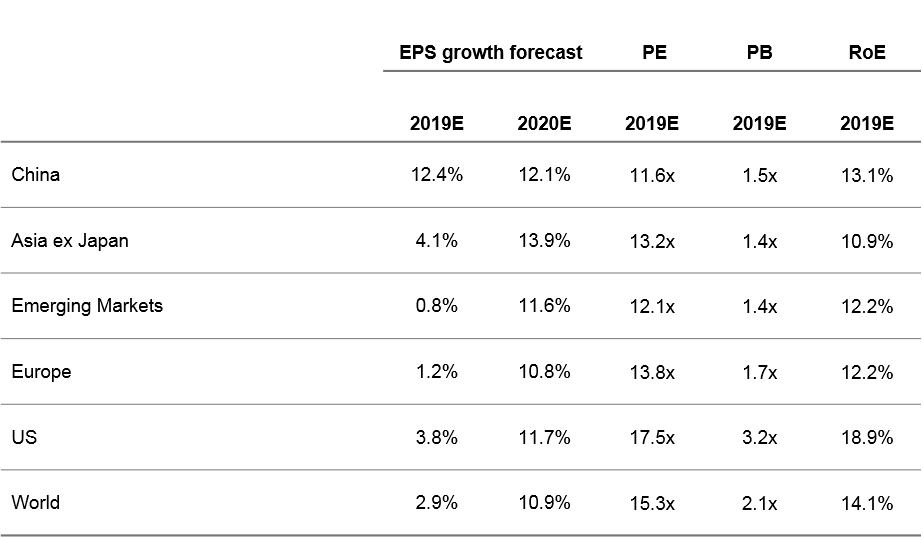 Source: Goldman Sachs, data as of May 2019.
Any forecast, projection or target contained in this document is indicative only and is not guaranteed in any way.
Based on the most recent round of talks between the US and China, which resulted in tit-for-tat tariffs and no definite timeline for any sort of resolution, it looks like the spectre of a full-fledged trade conflict will spill over into the second half of 2019. In our opinion, the uncertainty and negative sentiment that comes with a prolonged conflict is a bigger threat to companies and markets than the potential increase in tariffs. Even in a scenario (not our base case) where the US imposes a 25 per cent tariff on USD500bn worth of goods it imports from China, and China retaliates with similar measures, estimates suggest that the economic hit may be limited to around 50-60 basis points off their GDP growth. This is certainly not a positive development and will have a disproportionately large impact on the agricultural sector and consumers in the US, but another potential consequence is the removal of uncertainty, which will allow corporates that are currently in limbo to once again make long-term decisions and investments, such as potential supply-chain realignments.
In our view the US and China could reach a deal ultimately, but the timing, format and terms of any deal let alone details of implementation are difficult, if not impossible, to predict. However, we believe trade frictions are merely a symptom of the deeper running conflict between the two nations which is being likened to a Thucydides Trap – an allusion to the Athenian historian Thucydides and the belief that when an emerging power threatens an incumbent one, it ultimately leads to conflict. Thus investors will potentially need to adjust to a longer period of geo-political uncertainty, especially as we move closer to the campaign for the 2020 US Presidential elections where US-China relations are sure to be on the agenda.
Another shifting narrative at the global level is the intersection between conventional economics and the Modern Monetary Theory (MMT), which seems to be gaining traction with the rise of populism and the call for more fiscal stimulus in the face of slowing global economic growth. We are already experiencing this in many parts of the world where governments are choosing fiscal measures over monetary tools, and we could potentially see more if there is a dip in growth.
We are buyers of risk assets, and equities in particular, in this environment. The US markets have run ahead of the others, but Japan and Europe still look undervalued and attractive. Within emerging markets, Asia stands out as others grapple with greater geo-political and economic uncertainties (new regime in Brazil, elections in Argentina and South Africa, below forecast growth in Russia). From a medium to long-term perspective we can see the fundamentals play out and the latent value emerging from these equity markets; but in the more immediate future we have to be prepared for some turbulence.
In addition to the re-escalation of trade tensions between the US and China, there are other geo-political factors at play, especially since 2019 is a crucial election year for many emerging markets. It's always difficult to predict political outcomes and it's even harder to predict their impact on asset markets, but one lesson we can learn from history is that the effect of these political events tends to be ephemeral. The most important consideration for us as investors is political stability and policy continuity. The Asia-Pacific region in particular has witnessed a number of key elections this year but the reform agendas in major economies have not shown signs of wavering despite shifts in the political landscape. This is a positive sign for equity markets and should be a continued tailwind over the medium to long term in the region. Unpredictable as they might be, it is clear that geopolitical uncertainties have a huge impact on sentiment and can drive markets in powerful ways in the short term. The only logical action in such situations is to invest according to fundamentals; and the fundamentals as we see them are still favourable - slowdown in economic growth has moderated, corporate profitability remains intact and inflation is still low.
Another factor that is mostly under-priced at the moment, is inflation. Inflation remains below target in developed markets and low in emerging markets, but the trade conflict between the US and China could change that as tariffs are inflationary and so are counter measures such as on shoring manufacturing. We don't expect inflation to come back in a big way in 2019, but we will continue to monitor it as other risk factors play out.
Global fixed income outlook
---
Q&A with Xavier Baraton
Global CIO Fixed Income, Alternatives and Real Assets; CIO North America
What has driven fixed income performance so far in 2019?
Looking back at developments leading into the year, most of 2018 was driven by central bank tightening, eventually contributing to a slowdown in economic growth and a market shift to risk aversion. The adverse reaction by markets highlighted an important background theme – secular stagnation forces, such as demographics, deleveraging and environmental change, continue to hold sway. With their drag on global economies, any budgetary or monetary tightening can quickly slow economic growth, revealing a lack of intrinsic strength in the recovery to be sustained at a global level.
We continue to live in a world of moderate economic growth and low inflation, along with significant political uncertainty and geopolitical tensions. This environment is not particularly adverse for fixed income. At the start of 2019 our base scenario was that if a major global economic slowdown was avoided, liquidity and investors were poised to return to bond markets. The Fed policy pivot then reinforced markets. Benign fundamentals, continued global expansion, and monetary policies back to neutral or accommodative have supported all fixed income segments in 2019, with high yield, US dollar EM debt (EMD) and Asian bonds leading the way.
A key driver for high-yield bond performance has been credit default rates remaining low in both Europe and the US. Asia and emerging countries have benefited from a better policy mix (tax cuts and public investment in China as an example), along with global commodity prices creeping up. A more patient Fed and tame inflation have paved the way for more neutral monetary policies across emerging markets, trending towards easing.
Global liquidity outlook
---
Jonathan Curry
Global CIO Liquidity, CIO USA
What is your view on interest rates in 2019?
The big event impacting liquidity markets so far this year occurred in January in the US, with the Fed's 'pivot' to "patience" on raising interest rates further. At the end of 2018, markets had been expecting the Fed to continue its gradual tightening and to hike rates up by 50bps over 2019. Global economic developments coupled with muted inflation drove the Fed's January turnabout, supporting its more dovish stance despite the tight labour market and solid US economic activity.
While the US pivot on rates has attracted the most attention in 2019, we have also seen significant developments and challenges across other developed markets. In the UK, the uncertainty around Brexit has made it difficult to parse UK short-term rates. Views on the front end of the curve have flip-flopped over the first half of the year. The April business confidence survey was neutral and the CPI – at about 2 per cent – seems to be under control even with some concerns about wage growth and its potential impact on inflation.
In the Eurozone, the market got ahead of itself in terms of interest rate expectations. At the beginning of the year, markets were pricing in a 40 per cent probability of a 10bps hike. With the deteriorating economic data in the region, the market is now pricing in a 33 per cent probability of a 10bps cut. With weak results across many measures of economic strength in the Eurozone, we are anticipating a continued 'lower for longer' scenario for short-term interest rates.
In terms of US dollar money markets, we remain cautious in terms of duration risk. We think the market may have overreacted to the Fed's pivot. We are selective in fixed=rate securities out to six months, but not beyond that. We are still comfortable with the high quality investment grade credit, despite some spread contraction over the first half of 2019. We think this contraction has been driven largely by market technicals rather than a change in credit fundamentals. All these factors have led us to maintain a weighted average life (WAL) of 65-75 days in our USD MMFs and we expect this to continue for the remainder of 2019.
As a consequence of money market reform, we think it is more important than ever for investors to understand how liquidity risk is now managed in MMFs. This relates to the implementation of liquidity fees and redemption gates. Although we think these are appropriate mechanisms for protecting MMF investors during periods of stress, the new regulation has specific triggers which were not in place before.
In our sterling MMFs, we have maintained a neutral WAM due to the difficulties in predicting the course of rates in the UK as a result of Brexit. In our credit positioning, we have incorporated a longer WAL in the 60-65 day range to take advantage of some steepness in the credit curve. In the run-up to a potential Brexit at the end of March, we maintained heighted levels of liquidity in our sterling MMF and reduced the maximum tenor of any UK-headquartered credit exposure. When the Brexit end date was extended, these risk mitigating strategies were normalised.
In European markets, where we think 'lower-for longer' continues as the most likely outcome for 2019 and where the yield curve is very flat, we have made very few changes to our euro MMF strategies. To take advantage of some curve steepness, our weighted average maturities (WAMs) are longer, with a maximum of 6 months for fixed assets. As credit spreads are tight in the 1-3 month maturity range and we see some value further out the curve in one-year spreads.
With European money market reform, the bulk of MMFs converted to managing to the new regulation in January, and euro MMFs did so in March of this year. The good news is that we found the transition went smoothly across the industry. Assets under management (AUM) were largely stable - particularly in the US dollar and sterling MMFs. There was some limited reduction in euro MMFs as the new regulation impacted euro MMFs more than US dollar or sterling MMFs.
As a consequence of money market reform, we think it is more important than ever for investors to understand how liquidity risk is now managed in MMFs. This relates to the implementation of liquidity fees and redemption gates. Although we think these are appropriate mechanisms for protecting MMF investors during periods of stress, the new regulation has specific triggers which were not in place before.
The most significant of which is the requirement that a fee or gate must be applied if weekly liquidity falls below 10 per cent. Hence the heightened importance of liquidity risk management. That said, most MMFs are unlikely to be in situations where fees or gates are warranted. For this reason alone, how liquidity risk is managed has a heightened importance.
There are two considerations in evaluating a MMF's liquidity:
the liquidity of its assets
the level of concentration in its investor base
In the US, post money market reform we have seen a significant increase in the liquidity held in US 2a-7 prime funds (see figure 6). While regulation requires a minimum weekly liquidity threshold of 30 per cent, most prime funds are maintaining an average level that is close to 45 per cent. The theory is that by carrying this level of weekly liquidity, the fund will 'never' drop below the 30 per cent trigger that requires the fund's Board to determine whether a fee or gate should be applied.
Figure 6: US prime funds continue to operate with significant levels of liquidity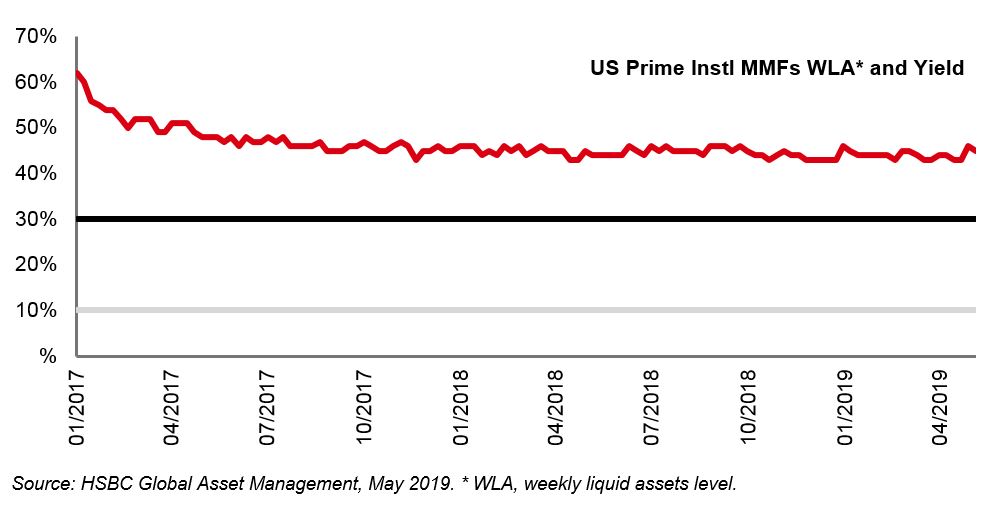 We've seen a similar pattern in some European prime low volatility NAV (LVNAV) funds - although here the issue is slightly less significant. In Europe, the Board must consider the need to apply a fee or a gate, only if an MMF's weekly liquidity falls below 30 per cent, and this must have been caused by a greater than 10 per cent one-day fall in its assets under management (AUM). The probability of this double trigger being met is very low in our opinion.
Overall, a trade-off exists with excess liquidity in MMFs. Weekly liquidity levels in the 40-45 per cent range in an MMF are not necessarily in the best interest of investors as it can cost them 1-3bps in returns.
Client concentration is the other consideration in managing liquidity risk. Particularly in light of the new regulation, a concentrated investor base without a commensurate increase in overnight or weekly liquidity levels heightens the risk of a fee or gate trigger risk.
In 2019, developed markets have not been alone in enacting new MMF regulation. India has also implemented new reforms. The change in Indian MMF reform concerns the percentage of assets in a MMF that must use marked-to-market accounting versus amortised cost accounting. Post the new regulation, all Indian MMF assets with maturities between 30 and 90 days have to be marked-to-market; whilst previously, this applied only to assets with a maturity greater than 60 days. We think this is a sensible new regulation in a market like India where short-term interest rates and credit spreads are more volatile.
Global alternatives outlook
---
Q&A with Xavier Baraton
Global CIO Fixed Income, Alternatives and Real Assets; CIO North America
How have alternatives fared?
Year-to-date returns of alternatives have followed the good performance of traditional asset classes. As of end of April, the overall hedge fund industry is up more than 4 per cent, according to HFRI Index. Meanwhile, other alternative asset classes like real estate and trend-following have produced positive returns too. And although private equity returns are not yet reported, it's expected to follow the trend of strong returns seen in public equities.