Risk-rating multi-asset portfolios
How best meet your clients' investment objectives
30 September 2018
How to best meet your clients' investment objectives
Many of the multi-asset funds available today from different asset managers define their portfolios not by risk ranges, but by underlying asset exposures. While this gives the manager flexibility to reposition their portfolios, it can also increase the range of possible outcomes in terms of volatility and returns.
For example, many multi-asset funds operate within different Investment Association (IA) sectors, such as Mixed Investment 0-35% Shares, Mixed Investment 20-60% Shares and Mixed Investment 40-85% Shares. The underlying investments are fulfilled within the IA sector of their choice and that sector will be used as a benchmark against which the fund's performance is measured.
However, many investors understand the primary objective for risk-rated funds is to make it easier for them to select a fund that matches their risk profile. We believe our approach to constructing multi-asset portfolios is more aligned with these investor expectations. Rather than being guided by the extent a portfolio can be exposed to different asset classes, our funds are based on target volatility ranges across different risk profiles. Each portfolio is optimised to deliver the highest return, at the given level of risk, based on our expectations for future market conditions.
In other words, the focus of our portfolios is entirely on risk adjusted returns. For example, the HSBC Global Strategy Balanced Portfolio has a target volatility range of 8% to 11% and it is optimised for that risk profile. It means that an investor can consult an adviser, establish how much risk they want to take, and select an appropriate Global Strategy Portfolio, confident that that portfolio will be managed to the same risk profile over the medium to long term. As long as the investor's risk profile does not change, they do not need to change their investment.
A change in the investor's goals or risk appetite can be catered for simply by moving all or some of their investment to another Global Strategy Portfolio managed within a different target volatility range.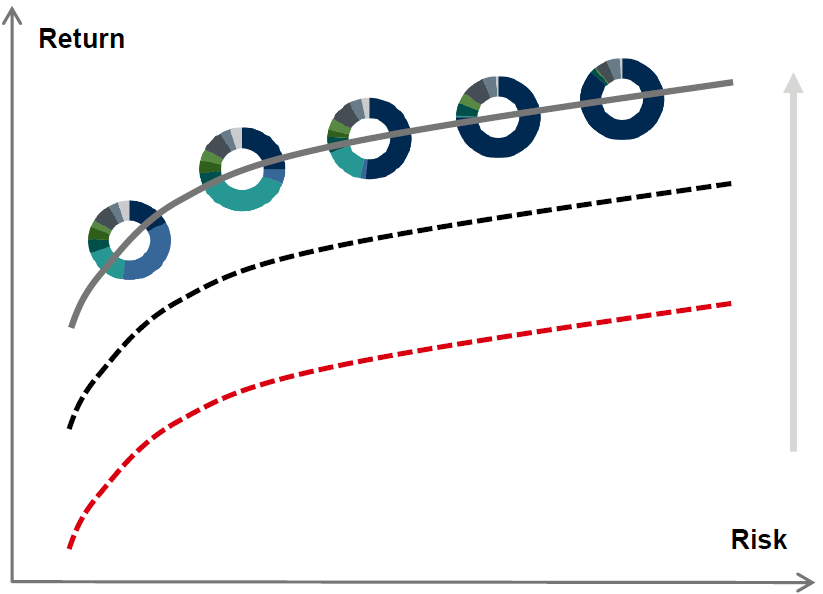 Source: HSBC Global Asset Management, September 2018.
One of the advantages of being part of a large global financial institution is that we have significant resources at our disposal.We use these resources to create forward looking estimates of three characteristics for each asset class: expected return, expected correlations and expected volatility. We then complete a mathematical process which identifies optimal mixes of asset classes at each risk profile, based on these forward looking assumptions.
This process is not perfect. One complication is that it is based on an assumed normal distribution of potential outcomes. Unfortunately, investment markets do not follow standard shapes. Their return distributions are largely unpredictable and have fat tails, meaning that the probability of extreme market events is higher than in the case of standard distribution. In times of crisis, markets can fall sharply in a very short period of time. So, we make statistical adjustments to account for this in our optimisation process.
This optimisation process identifies the long term shape of the portfolio. Moreover, we also consider investment risk when we make short-term tactical adjustments. Markets are dynamic, shifting and changing over different time periods. We therefore have to be dynamic in our approach to managing multi-asset portfolios, both to manage risk and also to capture tactical opportunities.
Our multi-asset investment solutions are based on a strong belief that investors can meet their objectives more effectively when they focus on risk-adjusted returns, rather than absolute returns that are detached from their individual circumstances. There is little point in taking on higher risks with uncertain prospects of being compensated for doing so. A good investment is judged not just on how profitable it is, but whether the investor is getting the maximum 'bang for their buck'. We think that running a portfolio to an appropriate volatility target is the best way of achieving this.
This approach to multi-asset investing can also be a good way of meeting the investment objectives of delegator clients who do not want to have any involvement in the ongoing management of the portfolio. The investor should still discuss their objectives with their adviser so that, together, they can define the investment experience the investor is comfortable with and, therefore, the risk profile of their portfolio. Once the investment has been set up, the investor can be confident that their portfolio will target that experience over the medium to long term.