Time to shine
Clients are increasingly relying on their advisers to help them continue to meet their objectives
17 May 2019
Equities and bonds have performed very well over the past few years and, with market volatility having returned to its long-term historic average levels, asset allocation decisions are now not as easy as they have been. In this environment, clients increasingly rely on their advisers to help them continue to meet their investment objectives. And it is in times like these that advisers could truly shine.
Studies showed that investors tend to be more loss averse than profit seeking so it is in difficult markets that clients can truly appreciate the value of their financial advisers. The 'prospect' theory put forward by Daniel Kahneman and Amos Tversky in 19791 has explored the notion that for investors "losses loom larger than gains". Subsequent research showed that the pain of losing is psychologically about twice as powerful as the pleasure of gaining2. Therefore, clients' satisfaction will depend greatly on the effectiveness of the recommended strategies in providing a degree of protection in volatile markets.
However, much of multi-asset investments are currently sitting in static portfolios despite dynamic, actively managed solutions being available in about the same price range as their static peers. By their nature, static multi-asset portfolios are not designed to adapt to changing markets and this can result in disappointing outcomes for the investor. To provide any degree of protection, portfolios can not remain static but will need to adjust their asset allocations and currency exposures to the changing market conditions in order to maintain their risk parameters.
1Kahneman, D., & Tversky, A. (1979). Prospect theory: An analysis of decision under risk. Econometrica, 47, 263-291.
2Rick, S. Losses, gains, and brains: Neuroeconomics can help to answer open questions about loss aversion. Journal of Consumer Psychology 21 (2011).
Does Tactical Asset Allocation help?
Dynamic multi-asset solutions use Tactical Asset Allocation (TAA) to adjust portfolio asset class exposures depending on shorter-term market views. There is evidence that TAA based on a disciplined quantitative approach is more about providing some downside protection than giving a performance boost on the upside. This ability can provide a good fit with investors' desire to protect their assets, as demonstrated by the loss aversion theory of Kahneman and Tversky. Researchers, including Mebane Faber in 2006, have shown that by applying a robust and consistent TAA approach an investor is able to increase risk-adjusted returns. According to Faber, "the investor would have also been able to side-step many of the protracted bear markets in various asset classes"3.
In his study, Faber tested the S&P 500 Index back to 19004, over a period that witnessed many devastating falls in stock and bond markets, such as those in US stocks in 1920-30s, German equities and bonds in 1910s and 1940s, US real estate in the mid-1950, Japanese stocks in the late 1980s and emerging markets and commodities in the late 1990s. Faber essentially followed Jeremy Siegel5 in applying the 200-day Simple Moving Average (SMA)6 to prove that market timing improves the absolute and risk-adjusted returns over a buy-and-hold strategy. Faber used the monthly equivalent of Siegel's simple market timing rule: a stock was bought when its monthly price exceeded its 10-month SMA and sold when its monthly price fell below the 10-month SMA. The study proved a principle that by applying a disciplined quantitative approach investors can improve risk-adjusted returns in every asset class, even when all transaction costs are taken into consideration.
The cost of selling out
Advising on the right strategy will not be the only challenge for advisers. After a period of strong market performance, many investors may have the common knee-jerk reaction of selling out of the market. Unless aligned to investors' financial goals and investment horizon, such a step could prove to be a costly one, given that timing the market is notoriously difficult. As the chart below shows, missing just 20 best market days over 10 years from 2008 to 2017 would have cost an investor of GBP100,000 the gain of GBP100,310 and would have actually resulted in a small loss. In other words, the fully invested GBP100,000 portfolio would have grown to GBP200,310 at the end of the period.
Chart 1: Returns from GBP100,000 invested from December 2007 to December 2017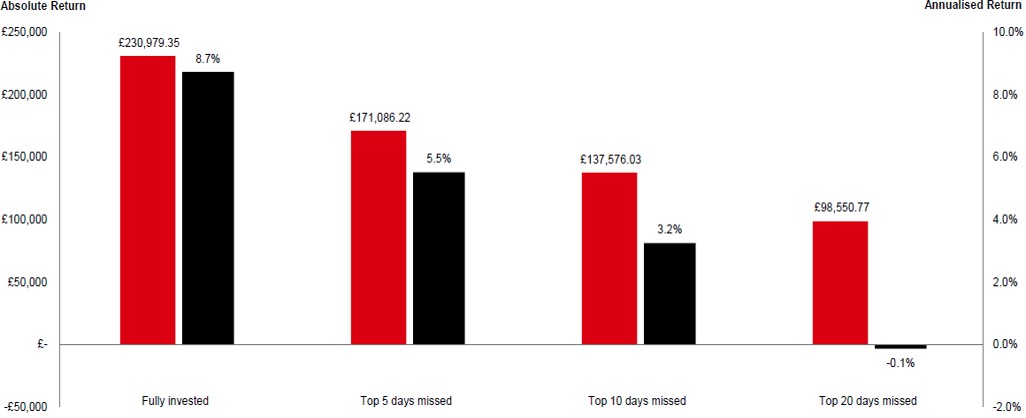 Past performance is not an indication of future returns.
Source: HSBC Global Asset Management, Bloomberg, MSCI Daily Total Return Gross World Index, as at 31 December 2017
The performance may go down as well as up. All performance figures are total return and net of fees.
3 Faber, Mebane T., A Quantitative Approach to Tactical Asset Allocation, July 2006.
4 The S&P 500 Total Return Index is based upon calculations by Global Financial Data before 1971.
5 Siegel, Jeremy. Stocks for the Long Run: The Definitive Guide to Financial Market Returns & Long-Term Investment Strategies, 1994.
6 A simple moving average (SMA) is an arithmetic moving average calculated by adding recent closing prices and then dividing that by the number of time periods in the calculation average.
Conclusion
We explained in our previous articles that as well as staying invested, it is equally important for clients to have the ability to maximise returns without increasing the risk profile of their portfolios. With the MiFID II directive requiring advisers to demonstrate where, and how, their service have added value, we believe cost effective multi-asset portfolios can help advisers meet their important client service objectives.
Important Information
For Professional Clients only and should not be distributed to or relied upon by Retail Clients.
Any views expressed were held at the time of preparation and are subject to change without notice. While any forecast, projection or target where provided is indicative only and not guaranteed in any way. HSBC Global Asset Management (UK) Limited accepts no liability for any failure to meet such forecast, projection or target.
The value of investments and any income from them can go down as well as up and investors may not get back the amount originally invested. Stock market investments should be viewed as a medium to long term investment and should be held for at least five years.
The material contained herein is for information only and does not constitute legal, tax or investment advice or a recommendation to any reader of this material to buy or sell investments. You must not, therefore, rely on the content of this document when making any investment decisions.
This document is not intended for distribution to or use by any person or entity in any jurisdiction or country where such distribution or use would be contrary to law or regulation. This document is not and should not be construed as an offer to sell or the solicitation of an offer to purchase or subscribe to any investment.
To help improve our service and in the interests of security we may record and/or monitor your communication with us. HSBC Global Asset Management (UK) Limited provides information to Institutions, Professional Advisers and their clients on the investment products and services of the HSBC Group.
Approved for issue in the UK by HSBC Global Asset Management (UK) Limited, who are authorised and regulated by the Financial Conduct Authority.
www.assetmanagement.hsbc.co.uk
Copyright © HSBC Global Asset Management (UK) Limited 2019
All rights reserved.
ED1174 exp 17.01.2020