Message from our Chief Executive Officer – Nicolas Moreau
I am writing this following the announcement of HSBC's Q1 2021 results to give you an update on how HSBC Asset Management has performed during this time. I'm delighted to tell you that our business is going from strength to strength and our Assets under Management ("AUM") stands at USD621bn as of 31 March 2021, up from USD612bn in December 2020.
Our AUM is now split as follows: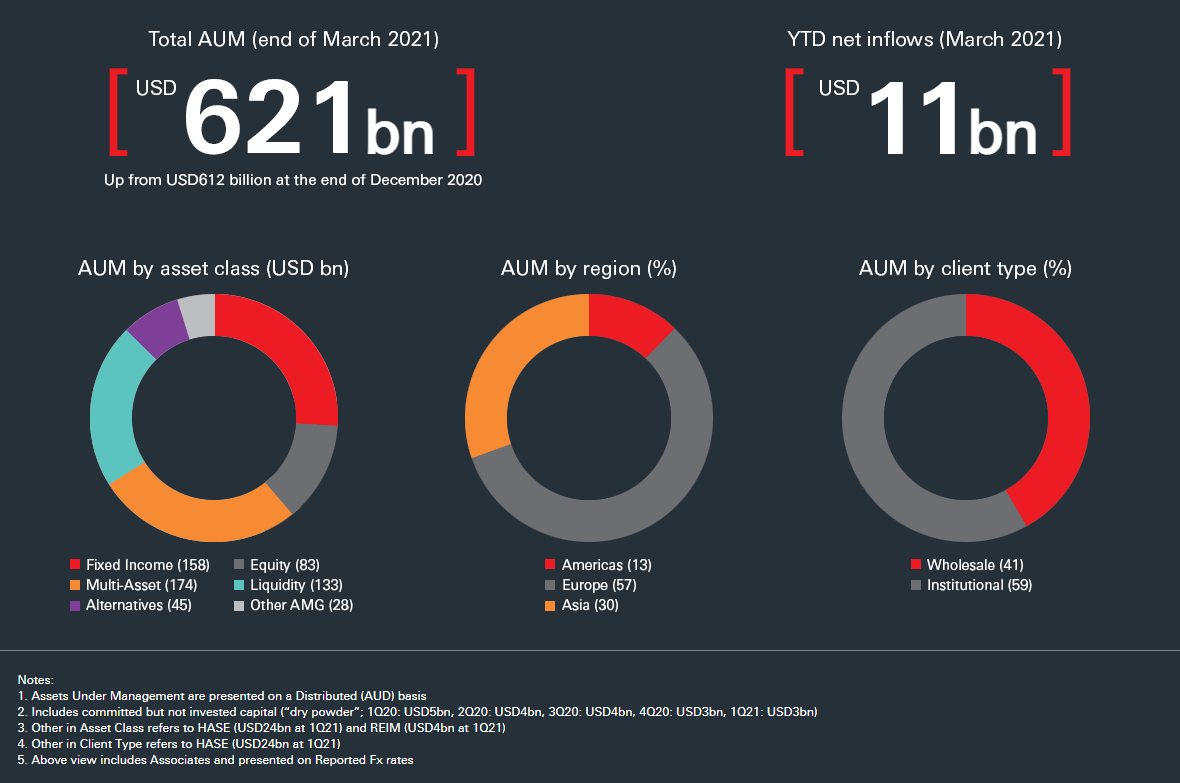 This year so far, and to come…
We've delivered great progress in the implementation of our strategy in the last quarter and below are just some examples of how we've been opening up a world of opportunity for our clients:
We saw the final close of our Real Economy Green Emerging Markets Investment Opportunity Fund ("REGIO") following further investment from two European clients, with total commitments of USD592m as of 31 March 2021.
We've partnered with Aegon in the UK to embed environmental social and governance ("ESG") criteria across its in-house workplace pension default fund range.
We've reached USD15.2bn in ETF AUM as of 31 March 2021. We saw the successful growth of our Hang Seng Tech ETF, after its launch in Europe in December and listing in Mexico last month. Later in the year, we'll be further expanding our offering with new launches in sustainable fixed income and equity, as well as further thematic ETFs.
We launched the HSBC Asia Multi-Asset High Income Fund in Hong Kong to help clients capture income opportunities in Asia. The fund has been well received by investors, with the AUM reaching USD261m as of 31 March 2021.
We also announced the successful launch of the Global Equity Climate Change Fund of Fund in India, a first of its kind, investing in an underlying fund with a thematic focus on climate change.
In alternatives and private credit, we've made progress in the direct space with three recent fund launches - UK mid-market direct lending, senior infrastructure debt and high yield infrastructure. We also retain a key focus on our indirect businesses that are now well established and have broadened their product lines.
We couldn't do this without our people.….
I mentioned at the end of 2020 that we launched our People initiative, helping to bring people to the top of our agenda. We have a strong Diversity, Equity & Inclusion initiative, which is reaping rewards with some exciting initiatives:
Sponsorship of our first intern from the '#100Black Interns' programme within our investment team.
We are involved with the 'UpReach' programme to support 12 students with work experience and facilitating an agreement to set up a four-year degree apprenticeship programme for nine students.
We continue to be present in the UK Diversity Project (www.diversityproject.com) helping the Investment Industry in the UK become richer with diverse talent. Our UK CEO is a member of the Advisory Board and several colleagues are involved in the workstreams for this project, which we have extended to our own in-house Diversity Equity & Inclusion initiative.
Looking ahead, we will continue to focus on strengthening our culture and building on the momentum in delivering our strategic business objectives. With vaccinations being rolled out globally, we can look towards the remainder of 2021 with confidence. I, and my team, remain available for you and we look forward to being able to help you throughout the rest of this year and beyond.
Thank you for choosing HSBC Asset Management.
Nicolas Moreau
---
This page is prepared for general information purposes only and does not have any regard to the specific investment objectives, financial situation and the particular needs of any specific person who may receive it. Any views and opinions expressed are subject to change without notice. This document does not constitute an offering document and should not be construed as a recommendation, an offer to sell or the solicitation of an offer to purchase or subscribe to any investment. References to 'we', 'us' and 'our' are references to HSBC Asset Management.